Argonaut
STAKING A CLAIM IN BRANDY
The Argonauts of the California Gold Rush embodied the pioneering spirit, leaving behind everything in search of adventure and opportunity. We tapped into that spirit for our Brandy - pushing the boundaries of brandy making to explore what California Brandy can be.
The Pioneering Spirit
OUR STORY
 Just as Prohibition was repealed on December 5, 1933, we began growing California gapes, and by 1958 we were making brandy. Eight decades and countless barrels later, we launched Argonaut.
We are one of the few brandy makers that own and manage the production process from start to finish. We are the grape grower, the winemaker, the distiller and master blender. This involvement in every step of the process allows us to maintain the highest quality standards at every step of the process.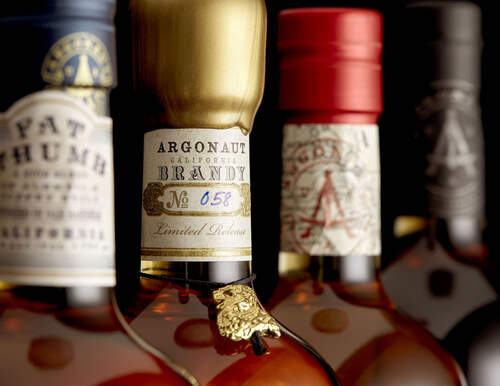 SALOON STRENGTH
$30.00
86 PROOF
The Perseverance – The Saloon was the hub of the community, an escape from the unforgiving conditions of Gold Rush California where merchants and fortune seekers alike could gather and enjoy a brandy libation.
TASTING
AT 91 PROOF, SALOON STRENGTH OFFERS NOTES OF FRESH APPLE, PEAR AND A LIGHT LAYER OF PEACH. NOTES OF TOASTED OAK WITH AN APRICOT JAM AND RICH BAKING SPICE AND CARAMEL.

SPECULATOR
$38.00
86 PROOF
The Argonauts of the Gold Rush were speculators, leaving home for the unlikely opportunity of striking it rich in the goldfields. The miners too were speculating, staking claims and betting that the gold in their plots was worth more than the purchase price. Argonaut Speculator pays homage to our former master distiller, who laid down quality stocks of brandy for decades, without a specific program in mind. This blend is evidence that she made a good bet.
TASTING
At 86 proof, Speculator offers bright green apple, ripe pear, apricot and stone fruit, honeysuckle and orange blossom, nutmeg and clove, chamomile, golden raisin, tropical notes of ripe banana and pineapple.

FAT THUMB
$50.00
86 PROOF
During the California Gold Rush, gold dust served as the preferred currency. A miner would open his purse of gold, offering merchants and barkeeps to take a pinch of dust as payment. Prosperous merchants were said to have 'Fat Thumbs,' thanks to a reputation for taking generous pinches of gold. In blending Argonaut Fat Thumb Brandy, our Master Distiller showed she too had a 'Fat Thumb' when pulling from our alembic brandy stocks. The resulting blend showcases the quality of some of our more scarce blending legs.
TASTING
At 86 proof, Argonaut Fat Thumb Brandy offers baked apple cobbler, caramelized pear, toasted oak and coconut, vanilla, nutmeg and clove, red apple, overripe pear, traces of caramelized banana, rich, silky mouthfeel.

THE CLAIM
SECOND EDITION
$200
86 PROOF
The Argonauts of the Gold Rush were charmed and captivated by Sam Brannan's claim of gold in the American River. His proclamation proved the catalyst to a new era in American history, accelerating Westward expansion. For this Second Edition of The Claim, our pioneering distiller Rita Hansen pulled from these special stocks to create a magnificent blend of the rarest and most unique California Brandies.
TASTING
The Second Edition of The Claim has a lush aroma of plum and cherry, with notes of dried fruit leather, apple, brown spice, and toasted oak. The deep red fruit flavors carry over to the palate, complemented by layers of dried fig, apple pie, and baking spice. The long finish is rich and elegant, with seamlessly integrated fruit and oak.