Germain-Robin
A CALIFORNIA ICON
Grapes. Redwood. Liberty. Legacy. California Brandy uncompromisingly made to the highest quality standards. By honoring old world techniques, while adapting the brandy making process to suit new grapes and the California environment, Germain-Robin blazed a trail of distilling innovation, pushing the art of brandy making to new heights.
Art Through Distillation
OUR STORY
We began as the unlikely union of two creative minds : Ansley Coale, a professor driving along a Northern California highway, and Hubert Germain-Robin, a hitchhiking Cognac distiller. The two created Germain-Robin, the first California Brandy that broke free from the constraints of Cognac. They crafted their brandy with traditional alembic Cognac stills, but using unconventional, flavorful and complex California wine grapes. Embracing the rich tradition of hand-distillation while harnessing the potential of California wine, we set a new standard of excellence in brandy that has been recognized worldwide. Germain-Robin continues that tradition today - advancing the art of fine California Brandy into a new era.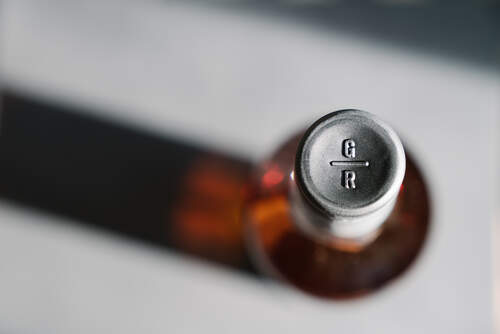 GERMAIN-ROBIN
$90.00
Germain-Robin is based around California-grown Colombard grapes, a standard in traditional brandy making. Distilled exclusively in Pruhlo Charentais Pot Stills and aged in Limousin Oak Barrels, Germain-Robin highlights the flavors that make California Brandy one of the most sought after aged spirits.
TASTING
GERMAIN-ROBIN IS MET WITH A NOSE OF OAK SPICE AND FRUIT. THE FRUIT-FORWARD NOTES OF APPLE AND PEAR ARE LIGHTLY ACCENTED WITH HONEYSUCKLE AND CHERRY BLOSSOM, GIVING WAY TO RICH APRICOT AND PEACH. WELL-INTEGRATED TOASTED OAK GIVES LIGHT ACCENTS OF CINNAMON AND BROWN SUGAR. THE RICH FULL MOUTHFEEL LINGERS AFTER THE FINISH IN THIS BALANCED BLEND.

GERMAIN-ROBIN XO
$135.00
Germain-Robin XO is an icon of California Brandy. Distilled exclusively in Pruhlo Charentais Pot Stills and aged in Limousin Oak Barrels, XO highlights the unique flavor and characteristics of California Pinot Noir grapes.
TASTING
THE HIGH-QUALITY CALIFORNIA WINE GRAPES IN GERMAIN-ROBIN XO SHOWCASE UNIQUE FLAVORS AND LAYERED TEXTURES. THE SIGNATURE GRAPE, PINOT NOIR, PROVIDES A DARK CHERRY CHARACTER AND A RICH SILKY MOUTHFEEL. COLOMBARD DISTILLATE ADDS A FRESH APPLE CHARACTER WHILE SÉMILLON PROVIDES RICHNESS WITH PEACH AND APRICOT NOTES. THE BALANCE OF BOTH FRUIT AND OAK FLAVORS IS UNIQUE TO GERMAIN-ROBIN XO. THE VANILLA AND TOAST FLAVORS FROM THE FRENCH OAK COMPLEMENT THE FRUIT WHICH CREATES LAYERS OF COMPLEXITY THAT ONLY CAN BE FOUND FROM SOURCING GREAT FRUIT. THE FERMENTATION AND DISTILLATION ARE DRIVEN WITH THE GOAL OF EMPHASIZING FRUIT AND MOUTHFEEL AND THEN PAIRED WITH AGING IN SELECT LIMOUSIN OAK BARRELS. TEXTURALLY, THE BRANDY IS EXTREMELY SMOOTH AND HAS AN INCREDIBLY LONG FINISH.

Single Barrel Pinot Noir Brandy
$250.00
AGED 19 YEARS
Double distilled in Prulho Charentais pot stills in 2001 and aged 19 years in heirloom Limousin Oak barrels, this single barrel brandy made from Anderson Valley, Mendocino California Pinot Noir grapes was chosen for its exceptional character, paying homage to our founders' contribution to fine brandy making.
TASTING
Single Barrel Pinot Noir brandy captures the fruit character of the Pinot Noir grape on both the nose and the palate. Aromas of barrel spice give way to dried cherry and apricot, with a layer of tobacco, and hints of coffee. On the palate there's weight, boldness, and depth. Beyond fruit are earthy flavors of oak and a touch of leather that instantly give way to a bright red cherry finish.